DESCRIPTION:
Testimonials
Legendary fingerstyle guitarist, Thomas Leeb
"An instant classic: Stuart Ryan's acoustic guitar book is well thought – and laid out – and last but not least, the arrangements are gorgeous!"
Guitarist Magazine
"We urge anyone wanting to get altered tunings under their fingers to invest."
What is in the book?
The book contains eleven solo fingerstyle guitar arrangements in Standard tuning (3 arrangements), DADGAD (6 arrangements), open G minor (2 arrangements). In addition there is an extensive section on how to develop the techniques required to play these pieces and each arrangement features detailed performance notes and both picking and fretting hand fingerings. There are also downloadable MP3s for each arrangement.
Who is this for?
This book is for anyone who is looking to develop, perform or teach as a fingerstyle player. The pieces sit at a variety of levels so there is something for everyone whether you have been playing for one year or thirty! Pieces from this collection have featured on TV across the world and also feature in the London College of Music exam grade syllabus.
Example Book Chapter
Audio samples:
Planxty Irwin
Black is the Colour
The Mason's Apron
Track Listing:
Sliabh Russell
Planxty Irwin
Black is the Colour
Cait ni Dhuibhir
Drowsy Maggie
Nothing Can Sadden Us
Eleanor Plunkett
The Mason's Apron
The House Carpenter
Si Beag Si Mor
The Water is Wide
You can download the audio tracks here The Tradition Audio.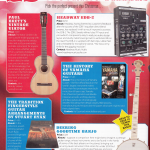 The Tradition has made it into Acoustic Magazine's list of essential Christmas stocking fillers!