DESCRIPTION:
Testimonials
Legendary fingerstyle guitarist, Thomas Leeb
"An instant classic: Stuart Ryan's acoustic guitar book is well thought – and laid out – and last but not least, the arrangements are gorgeous!"
Guitarist Magazine
"We urge anyone wanting to get altered tunings under their fingers to invest."
What You'll Learn
11 beautiful melodic solo fingerstyle guitar arrangements from the traditional music of Ireland, England, Scotland and America.
Explore a range of tunings including Standard (3 arrangements), DADGAD (6 arrangements) and Open G minor (2 arrangements).
Study the fingerstyle techniques required to play these pieces with detailed performance notes and fingerings for both picking and fretting hands.
Expand your repertoire with slow airs, haunting ballads and uptempo reels.
Studio quality MP3 recordings of each piece are included for reference.
Tab and Notation for each piece.
Who is this for?
This book is designed for fingerstyle players of all levels though we suggest 18+ months playing experience. These melodic arrangements sit at a variety of levels to keep you challenged and inspired.
Over 4000 copies sold worldwide, this book is ideal for teachers, students and those who play for enjoyment. Pieces from this book now feature in the London College of Music exam grade syllabus and the recordings are regularly used on tv and radio programmes throughout the world.
Ideal for any guitarist looking to expand their repertoire, develop and perfect fingerstyle techniques and explore the world of alternate tunings.
Download Example Book Chapters (PDF)
Audio samples:
Planxty Irwin
Black is the Colour
The Mason's Apron
Track Listing:
Sliabh Russell
Planxty Irwin
Black is the Colour
Cait ni Dhuibhir
Drowsy Maggie
Nothing Can Sadden Us
Eleanor Plunkett
The Mason's Apron
The House Carpenter
Si Beag Si Mor
The Water is Wide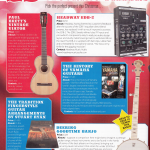 The Tradition has made it into Acoustic Magazine's list of essential Christmas stocking fillers!