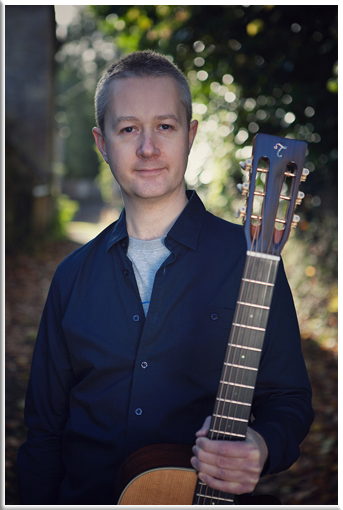 Award Winning UK Guitarist Stuart Ryan
Stuart Ryan's musical story began in 1990 when, at the age of 13, a cheap nylon string 'starter' guitar entered the house. More than thirty years later Ryan is regarded as one of the UK's finest guitarists and is a busy studio musician, performer and author.
Ryan was introduced to music from a young age, growing up in a household with a diverse playlist driven by Motown, 60s Pop, Country and much more. The young guitarist took a short course of lessons at school but was soon teaching himself from guitar tab books. He began to build a diverse library that featured everyone from AC/DC and Chuck Berry to Django Reinhardt, Steve Cropper and much more.
Moving to London in the late 1990s he cut his teeth on the city's late night jam session scene playing with many heavyweights from the Jazz and Blues world whilst landing his first paid performances. In 2001 he entered the "Perrier Young Jazz Musician Of The Year Awards" placing fourth overall and the following year went on to win Guitarist Magazine's "Acoustic Guitarist Of The Year."
By now he was on course to become a full time professional guitarist and throughout the 2000s toured constantly appearing at guitar festivals and venues throughout the UK and Europe with highlights being solo performances at London's Royal Festival Hal and annual invitations to the International Guitar Festival in Bath. An early boost to his career came when leading Jazz guitarist Martin Taylor described him as "A world class guitarist."
Soon Ryan was a hugely respected fixture of the UK guitar scene writing monthly lesson columns for Guitar Techniques magazine and contributing to Guitarist, Acoustic Magazine, Akustik and many more. Working as a performer, writer and busy session guitarist his acoustic fingerstyle guitar work began to feature on TV stations around the world. Key to his popularity is his diversity – that early library of guitar books created a guitarist equally at home playing fingerstyle Delta Blues, funk, jazz, rock and much more.
Today his original pieces are studied across the world by students of the Rockshool and London College of Music exam boards whilst his compositions are published by Sony/BMG. He has recorded two solo fingerstyle guitar albums and frequently works as a studio musician with television and film score composers for networks including Amazon Prime and the BBC.
However, his greatest passion is helping fellow guitarists by sharing everything he has learned and experienced on his thirty + year guitar journey. A gifted multi-stylist he is a prolific writer having published six books of guitar music and instruction with plenty more to come. Those early trips to the guitar shop have now come full circle as he finds himself writing the books to enrich others' guitar journeys.